Looking for cool things to do in South Africa?
Whenever you find yourself driving through the valley of a thousand hills near Durban, you're coming from the Drakensberg mountains or you're taking on an unbeaten path adventure to Swaziland, keep in mind there is a beautiful place called St Lucia tucked in underneath the South African border under Mozambique. Here's a travel guide with some short guidelines and tips about this UNESCO Heritage area of natural beauty.
Table of contents
St Lucia Wetlands
The village of St Lucia is a good base from which you can explore the iSimangaliso Wetland Park. This wildlife and nature reserve is a gigantic protected region along the South-African coast, almost right up against Mozambique and Swaziland. The village of St Lucia can be found at the mouth of a river that comes from a giant center lake (with the name of lake St Lucia). This lake is located right in the middle of the iSimangaliso Wetland Park and it's home to many hippos, crocodiles, pelicans, and flamingos.
In the grasslands around the lake, in the Wetland Park, you can find a lot of other wild South African animals. Elephants, giraffes, leopards, rhino's, zebra's, warthogs and many other smaller or larger animals can be spotted here with ease because of their large numbers.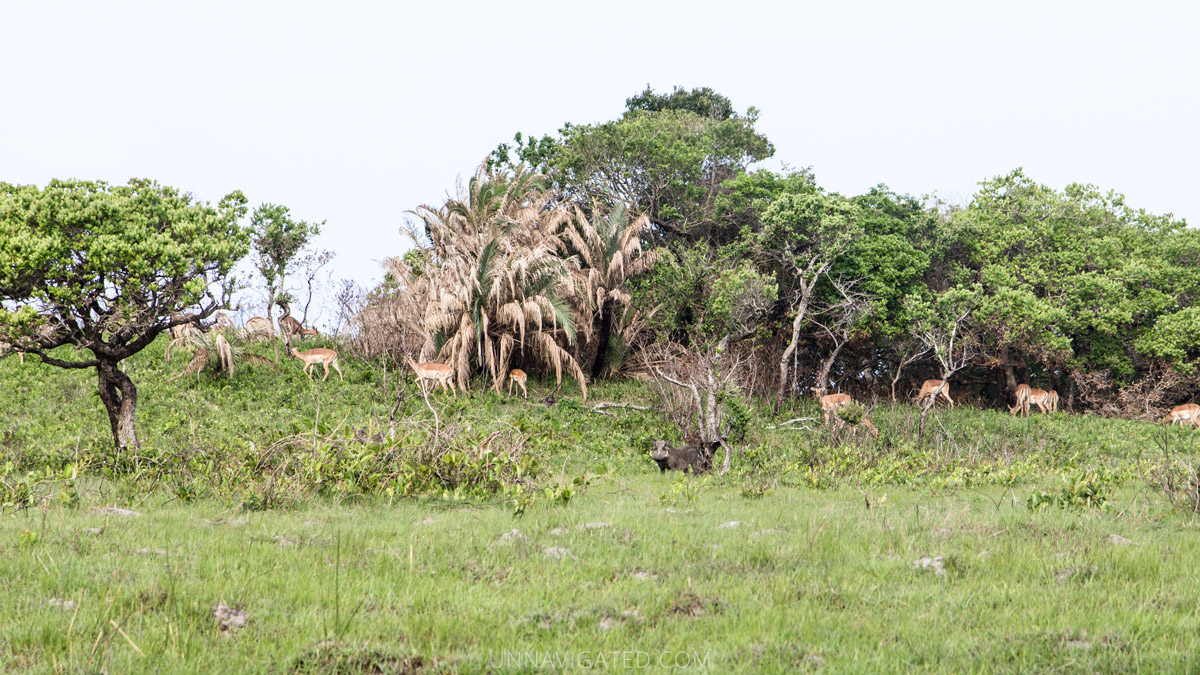 Wild gazelles and a warthog in St Lucia.
An unforgettable walk with wildlife
Right next to the St Lucia crocodile center (more info below), there is a beautiful safari park where you can just walk right next to wild animals.
Sounds dangerous?
Well, most of the animals are harmless if you leave them alone. Zebra's, gazelle's and warthogs don't have an aggressive natural state of mind.
A Warthog in the St lucia wetlands park
Wildebeests and zebras in a beautiful surrounding.
Wildebeests grazing in St Lucia's wetlands park.
A danger sign
There is a danger sign outside the walk safari park though. It declares that you enter on your own risk. And that there are a few dangerous animals in the area.
A danger sign that warns you of wild animals in the St Lucia wetlands park.
The river section of the park
This park is small enough to walk through, but also large enough for some proper exploring.
When you walk on the main path, you will eventually end up onto a fence with another warning sign. And there is a stairway that can help you to get to the other side of the fence. This warning sign explains to you that you are allowed to get to the other side of the fence, but that the area behind it is much more dangerous. It says that there are wild hippos, crocodiles and rhino's on the other side.
Getting to the other side of the fence will eventually bring you onto a grassy steppe. When you follow the path after that, you can even get to the river banks where you see footprints of hippo's and where wild crocs might be around. Luckily these dangerous animals normally only come out of the river at night.
Looking for a place to stay in South Africa? Here's a list with four of my favorite hostels in South Africa.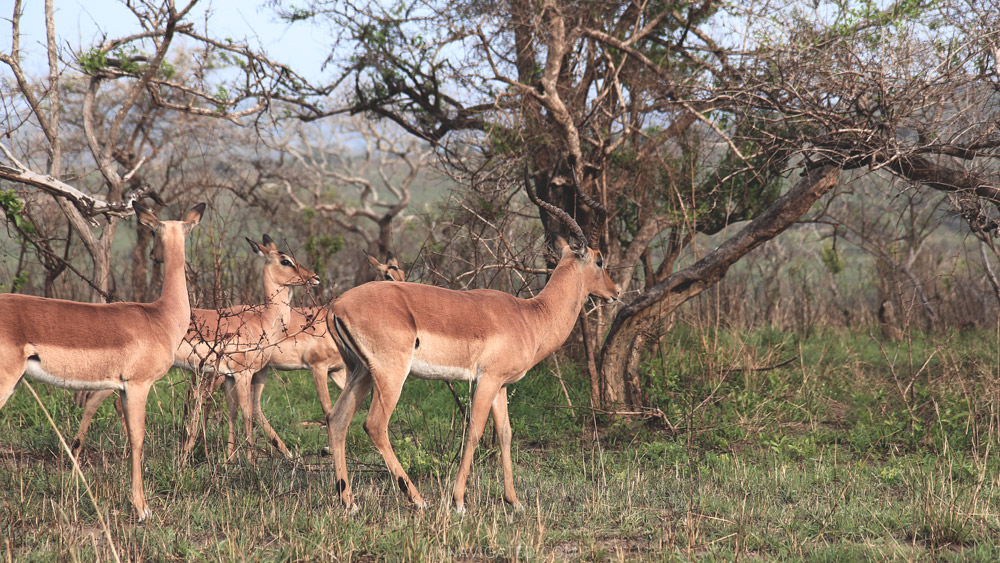 Spotting wild gazelles in the St Lucia wetlands park in South Africa.
A river cruise
In St Lucia, you can take a boat with a group onto the St Lucia river to spot some hippos and crocs. It's amazing to see these wild animals just in nature, right next to your boat.
Spotting wild hippos on a river cruize in St Lucia.
A wild crocodile next to the river bank.
Hippo's & monkeys in St Lucia
Throughout the quiet of the streets in St Lucia, there are quite a few monkeys. As monkeys are quite common in South Africa, it makes perfect sense that there are a lot of them in a village like St Lucia. (Because it's located right in the middle of a wildlife reserve).
During nightfall, the streets in St Lucia are frequently wandered by hippos as they come out of the river after dark to graze. They only come out at night though. During the day they spend their time cooling off in the river.
Warning: Hippo's might seem cute, but if you see one, don't come too close. Hippos are dangerous animals as they can be aggressive.
One of the many little monkeys in St Lucia.
More hippos in the river.
Obese crocodiles
You'll find wild crocodiles all over the wetland park, in the lake and river of St Lucia. However, if you really want to see a crocodile from (really) up close, you can also visit the crocodile center of St Lucia.
The crocodile center is inhabited by many captivated and saved alligators and smaller to large crocodiles. Most of these animals are well fed and they don't seem to have a lot of issues in life. In fact, some of them are very obese. At first, it looks funny, but keep in mind that these animals belong in their natural habitat. And not just locked up, being fed all the time.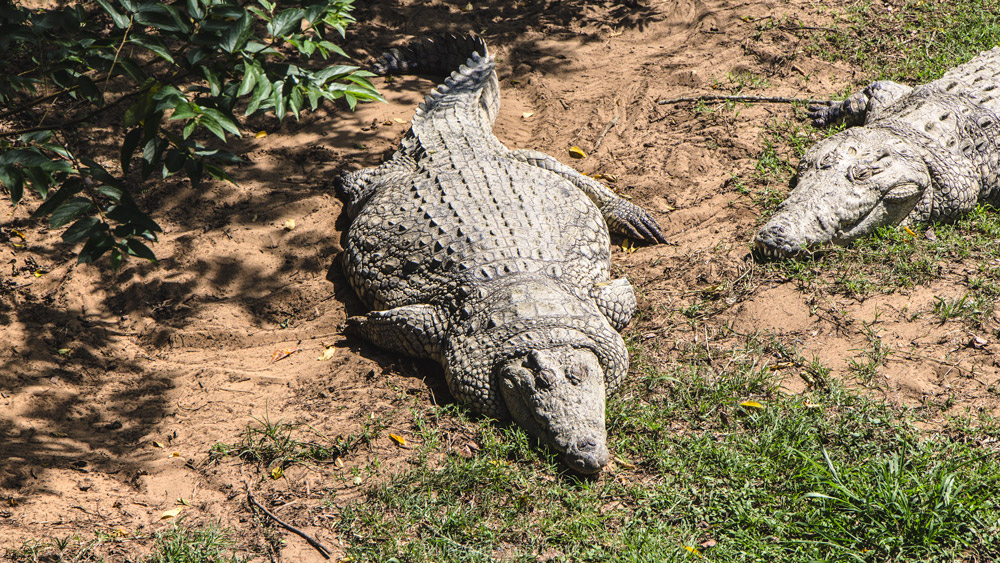 Quite an obese crocodile in the crocodile center.
Like This Travel Guide about South Africa? Pin it!